Introduction
Japanese woodblock, known as mokuhanga, is the traditional Japanese hand-printing process that evolved from Chinese and Korean precedents during the Edo period (1603 to 1867). Mokuhanga is a water-based woodblock method and I was taught this by Laura Boswell in April 2018 using water-colour inks. The first print that I made using this method was "Cromwell's Castle, Tresco". To my shame, I waited nine months before attempting this print.
Materials
Cutting tools: basic cutting tools – U, V and chisel profiles together with a kento chisel and a hangi-toh knife
Brushes: a selection of Japanese printing brushes, paint brushes for carrying ink and a wallpaper paste brush for water carrying (for dampening the printing paper)
Block: Japanese plywood
Paper: Fabriano Accademia 120 gsm
Inks: a selection of tube-based inks diluted with water
Barren: I used a plastic disk barren with small raised dots underneath
Nori paste: a mixture of rice powder and water carried to the block using wooden cocktail sticks
Knives

U- and V-Profile Gouges plus Hangi-Toh Knife and Chisel
Brushes

Water Colour Inks
Traditional and Modern Barens
For an in-depth look at materials and techniques, Vollmer (2015) is an excellent resource.
Process:
Having traced the image from one of my holiday photographs, I decided that I would need six colours. This would equate to six blocks, one for each colour. As can be seen from the images below, some of the blocks were positioned on the same piece of Asian plywood. Each block required kento marks to aid registration.
The traced drawing is transferred to the appropriate block using carbon paper, taking care to position the kento marks in exactly the correct position.
I could the start carving around each drawing using the knife (Hangi-Toh). The angle of the knife blade creates a slope away from the image so that the ink drains into the moat rather than ponding next to, what would have been, a right-angled cut. The moat is achieved by removing approximately a 3cm width of wood. Any excess ink that drains into the moat can be removed before printing.
The proofing/printing paper has to be dampened before printing can take place. Laura Boswell recommends that two lots of five pages of newspaper be used as a buffer with individual sheets of paper laid alternatively between single sheets of newspaper. This can be done just before carving or first thing in the morning.
Woodblock 1/3

Woodblock 2/3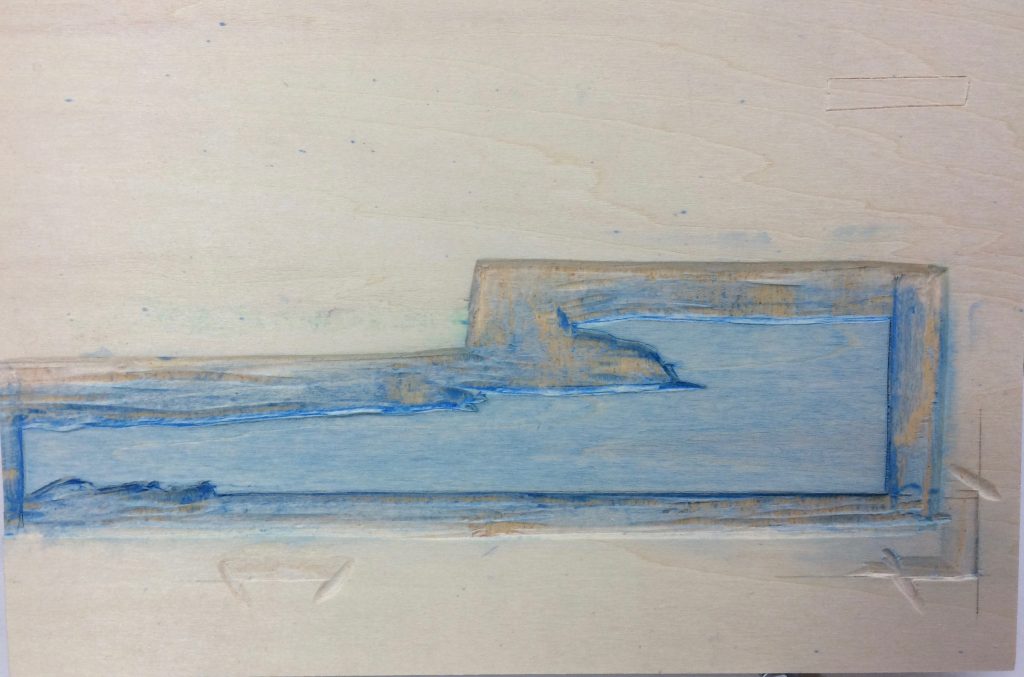 Before printing, the carved area is damped using plain water and left to soak for a few minutes. The water colour ink is carried to the block and dabbed on. Nori paste is then dabbed on to the block and mixed in with the ink using a printing brush. Once the ink is suitably brushed, a sheet of damped paper is initially positioned in the kento marks, laid across the block and burnished with the barn. The burnished paper is returned to the pile of damp paper pending the subsequent coloured inks. It is best to print one colour at a time for the entire edition.
After all the colours were applied, the prints were dried by placing them between blotting paper (with tissue paper over the front of each print) and inserted between sheets of MDF with a heavy weight on top. After 48 hours or so, the paper should be dry and wrinkle-free.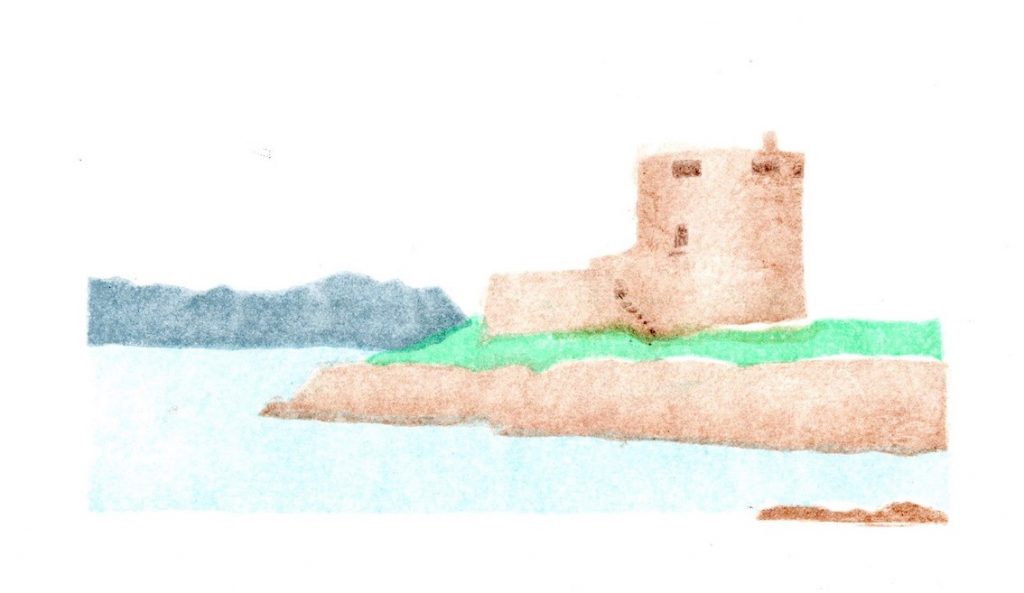 Recommended Reading:
Vollmer, April (2015). Japanese Woodblock Print Workshop. Published by Watson-Guptill Publications, Berkeley [ISBN 978-0-77043-481-6]