Laura Boswell is a very talented printmaker who specialises in linocut and Japanese woodblock printing (see Note 1 below). In April 2018, I attended one of Laura's Japanese Watercolour Woodblock courses and enjoyed it so much that I decided to add mokuhanga to my other relief and intaglio printmaking techniques.
In 2011, Laura published a linocut print entitled "Moon Rising" and in November, I received Laura's permission to interpret her work in both linocut and watercolour woodblock. This blog describes my interpretation using linocut and oil-based inks. A subsequent blog will describe my interpretation using woodblock and watercolour paints.
Linocut
I interpreted "Rising Moon" using a four-block, six-colour print on traditional grey lino using Hawthorn's 'Stay Open' oil-based inks on 300 gsm Somerset Velvet White paper.
The four blocks were cut and inked as follows:
Block 1 – This represented the sky with some of the nearby trees removed together with the moon and the distant trees. The sky was inked with a blend of yellow and red inks (see Note 2 below).
[one_half]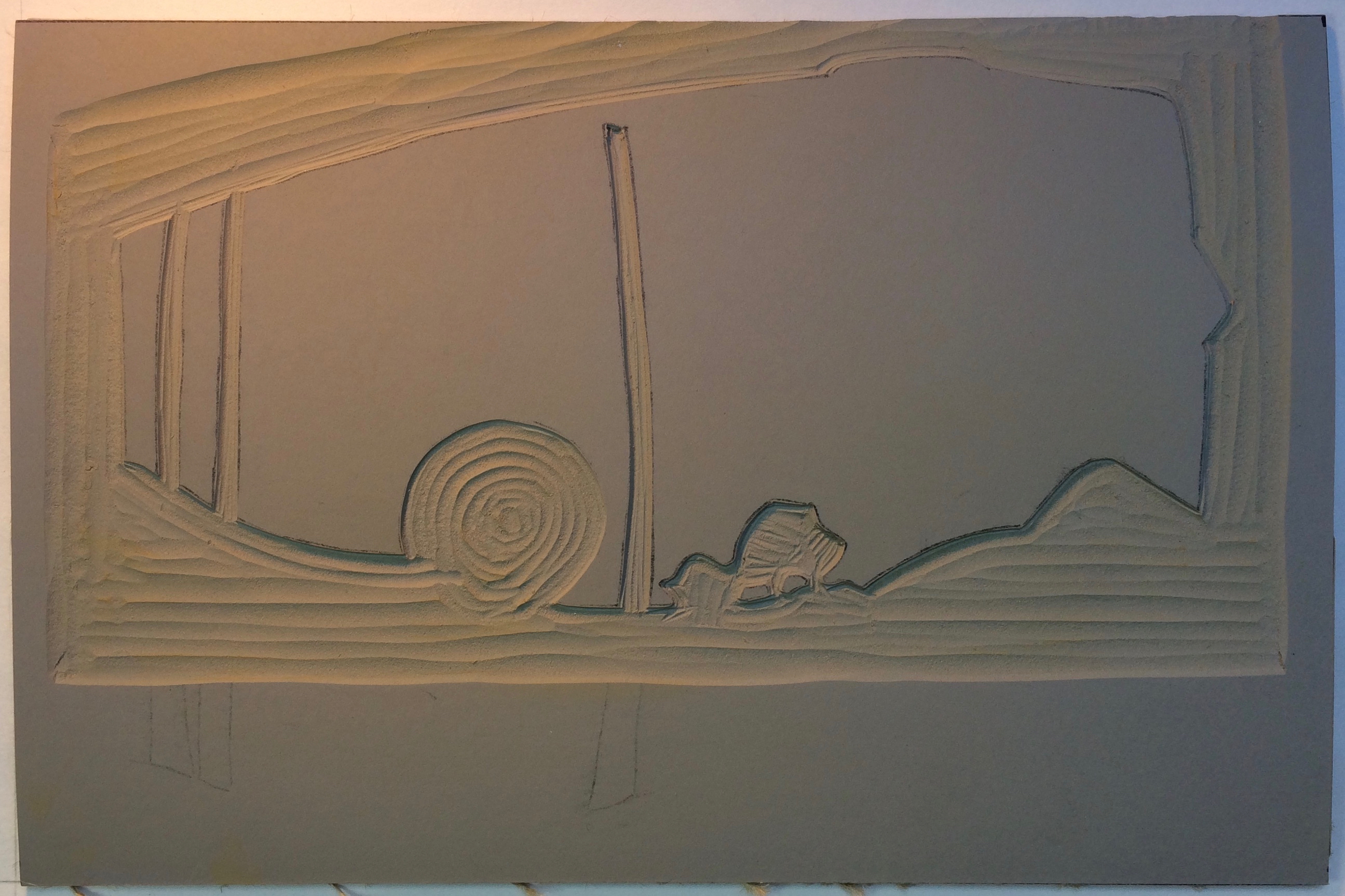 [/one_half] [one_half_last]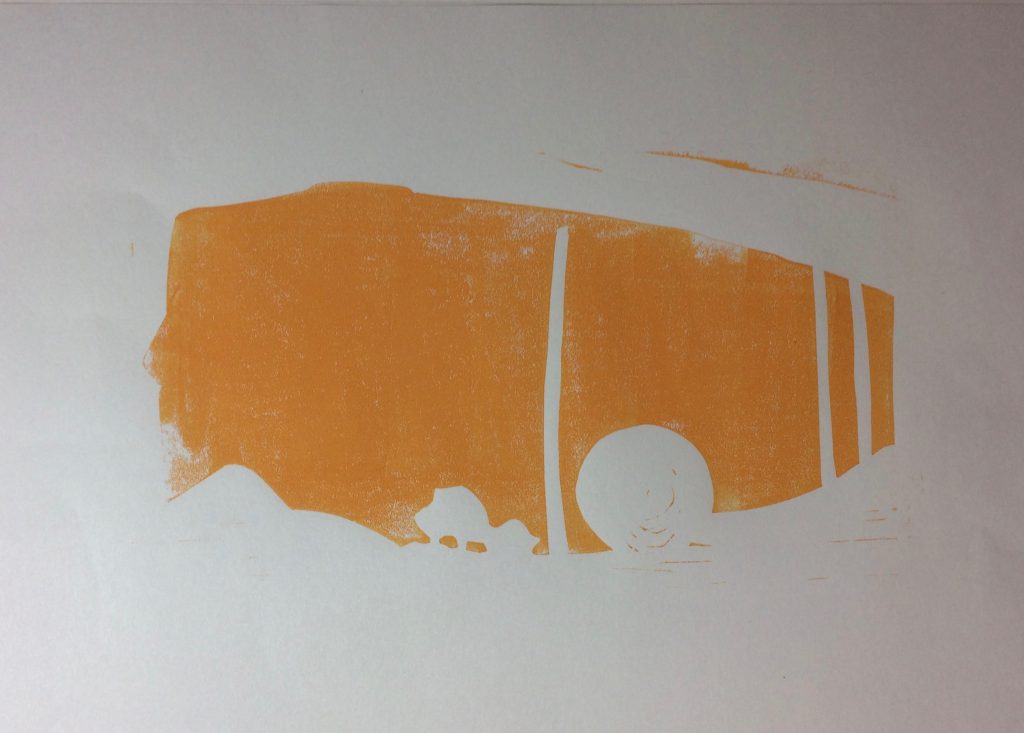 [/one_half_last]
Block 2 – This block served two purposes – the fields were to be inked in a pale green and the trees a darker green. To achieve this, I had to ink the pale green first, reduce the block and ink with the darker green.
[one_half]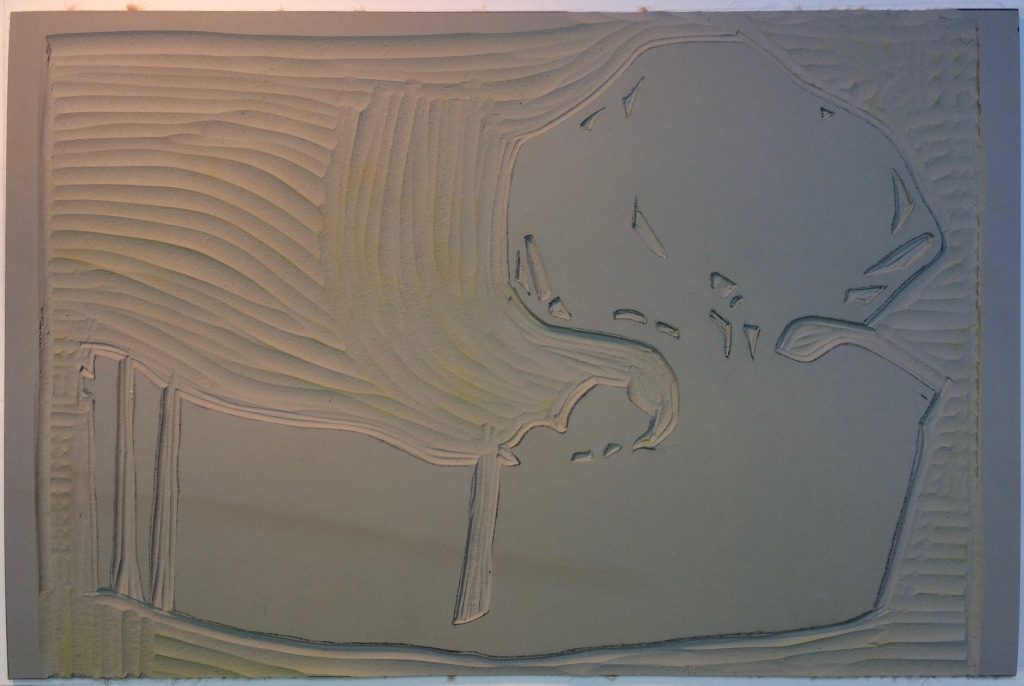 [/one_half] [one_half_last]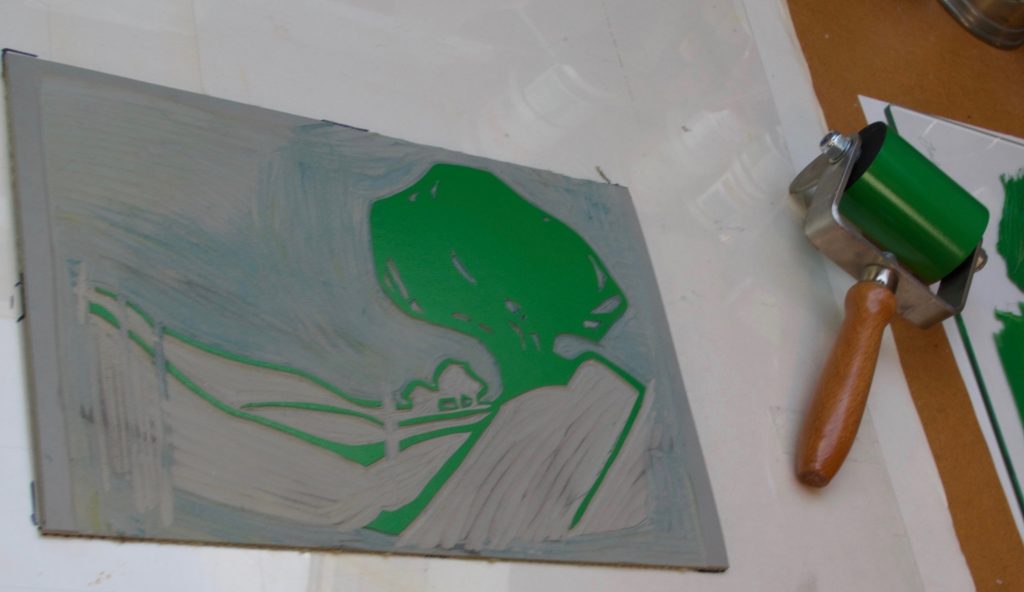 [/one_half_last] [one_half]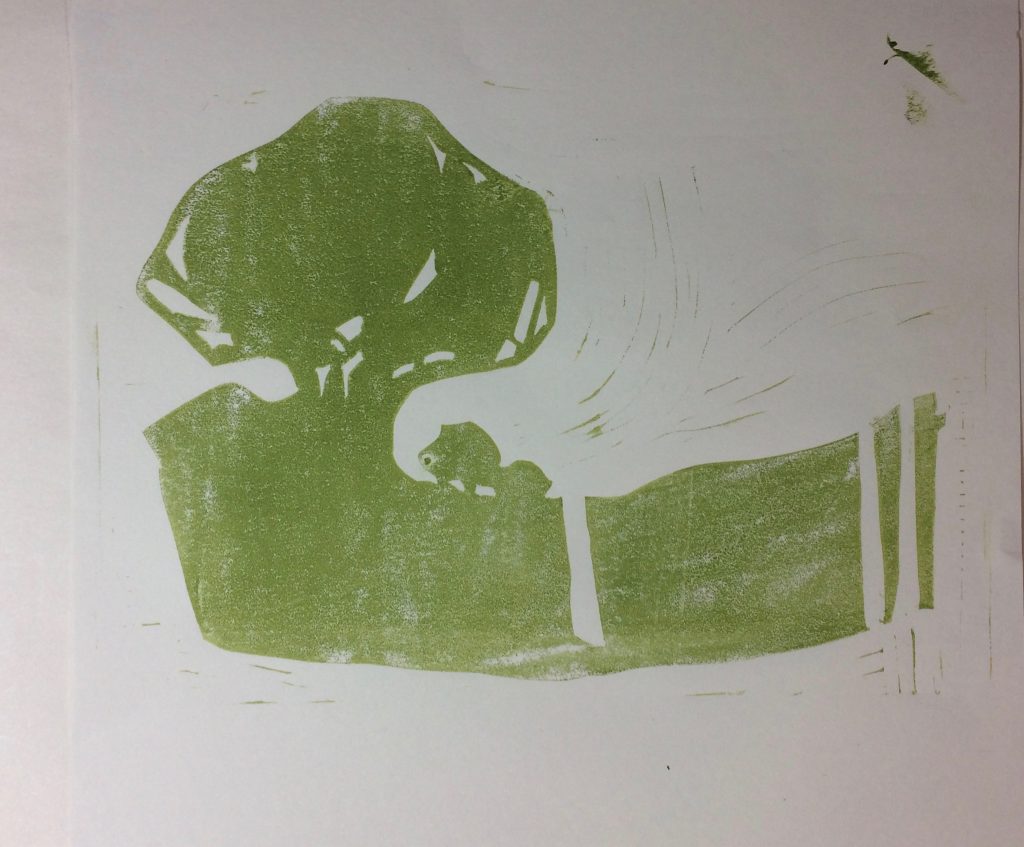 [/one_half] [one_half_last]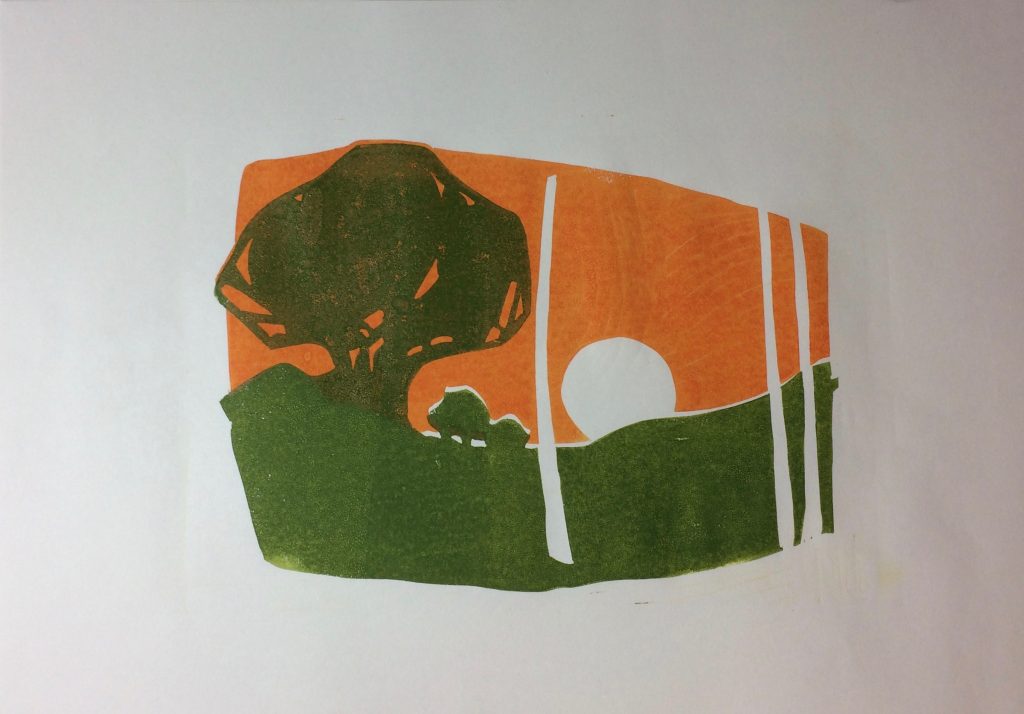 [/one_half_last]
Block 3 – This was a half-width block that contained the tree 'arch'. This proved to be difficult as the block required a lot of cutting including the white bark on both vertical tree trunks. Inking was also a challenge as the roller kept depositing ink on the raised parts of the space. This was resolved by masking the spaces with cartridge paper – one mask for inking and another mask for burnishing (stiff enough to withstand sticking to the roller). The tree was inked in brown.
[one_half]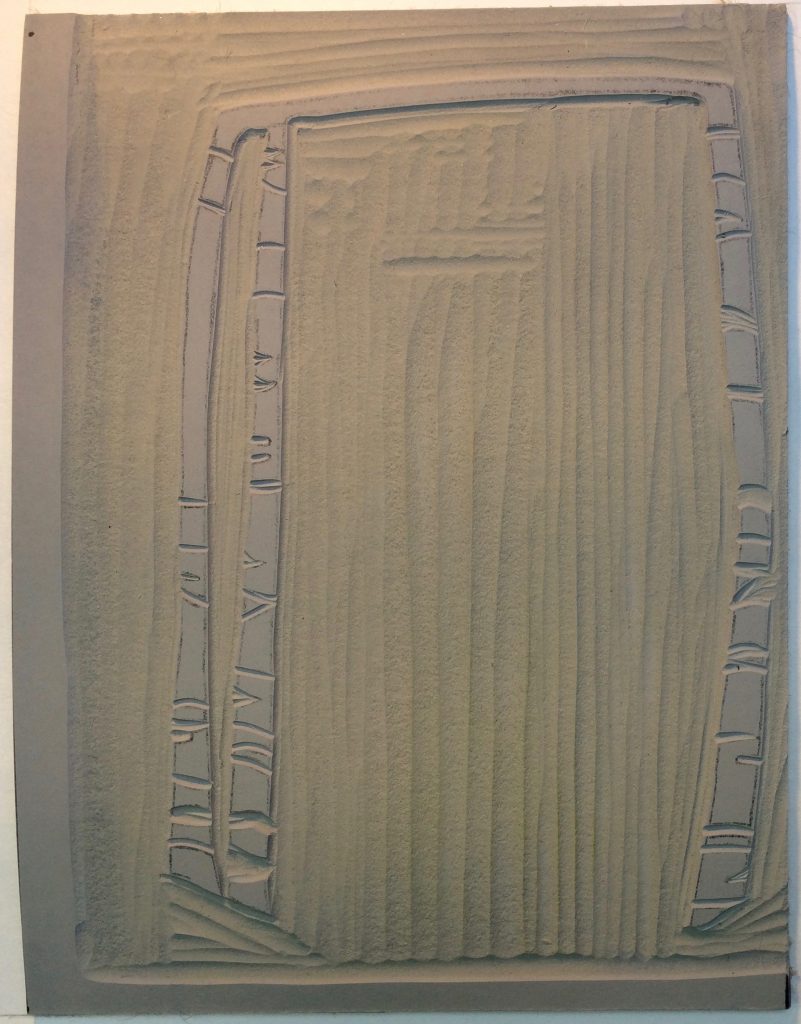 [/one_half] [one_half_last]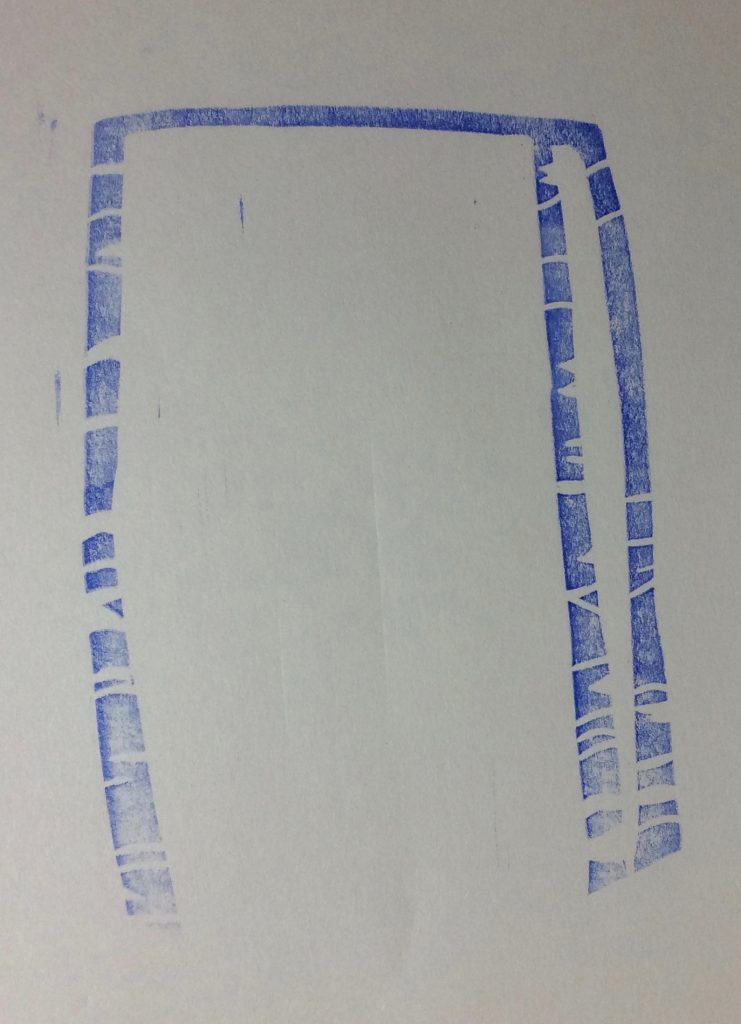 [/one_half_last]
Block 4 – the final block provided the image outline in black ink. Again, as with Block 3, both cutting and inking were challenging. Masking certainly helped again in this case. The 'framing' was inked in black ink.
[one_half]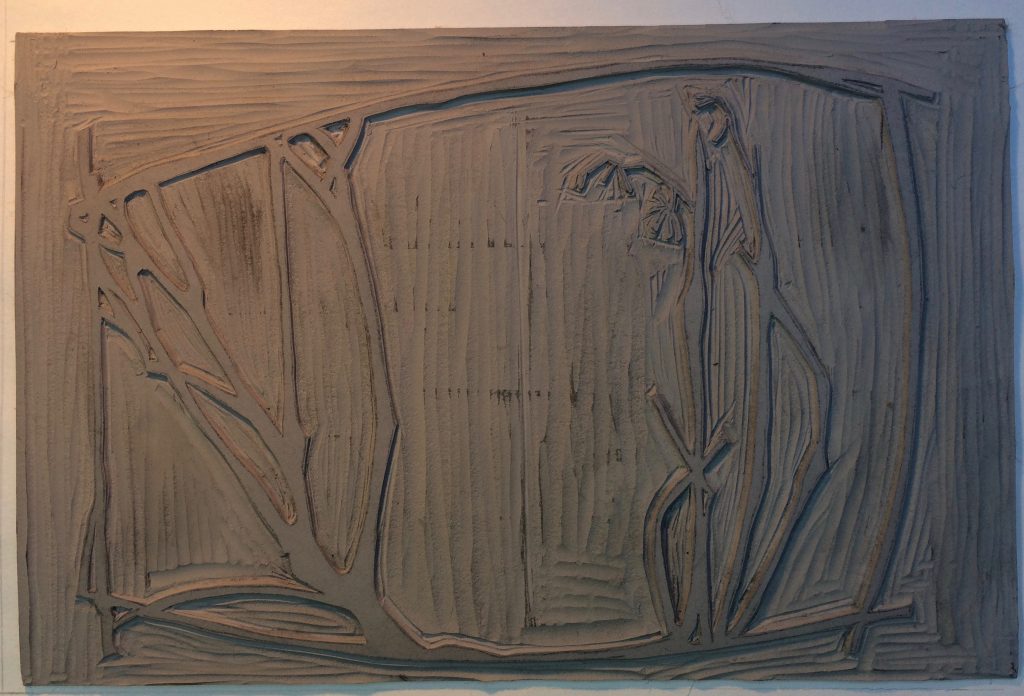 [/one_half] [one_half_last]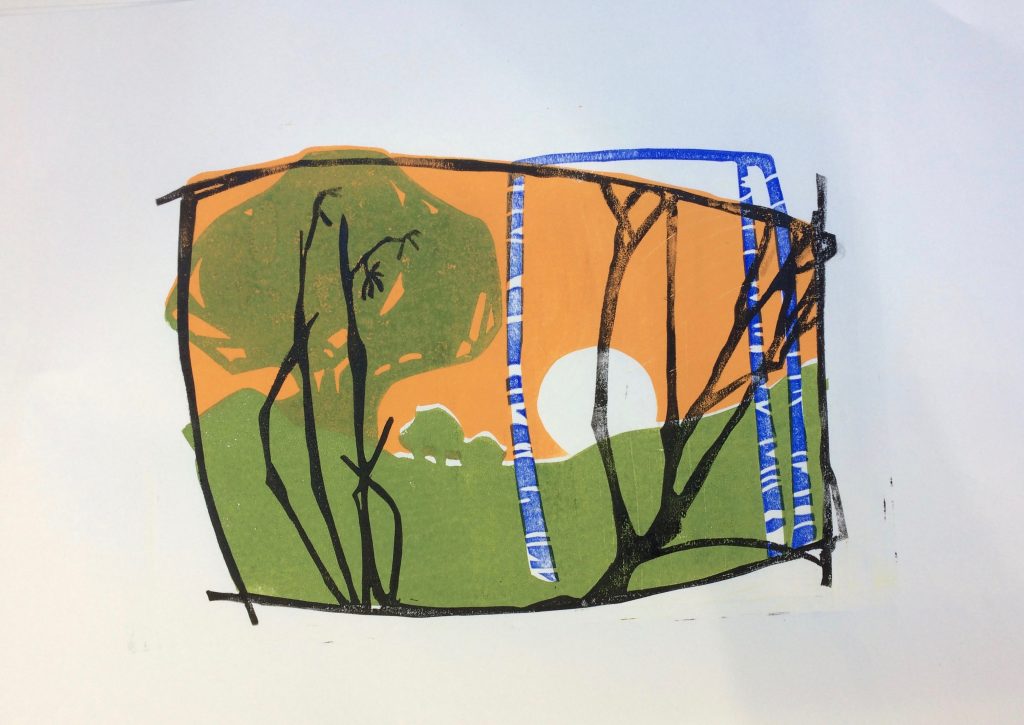 [/one_half_last]
All four blocks were hand burnished using Ternes Burton pins and tabs for registration.
I have included Laura Boswell's original 2011 print together with my interpretation. I created an edition of eight prints.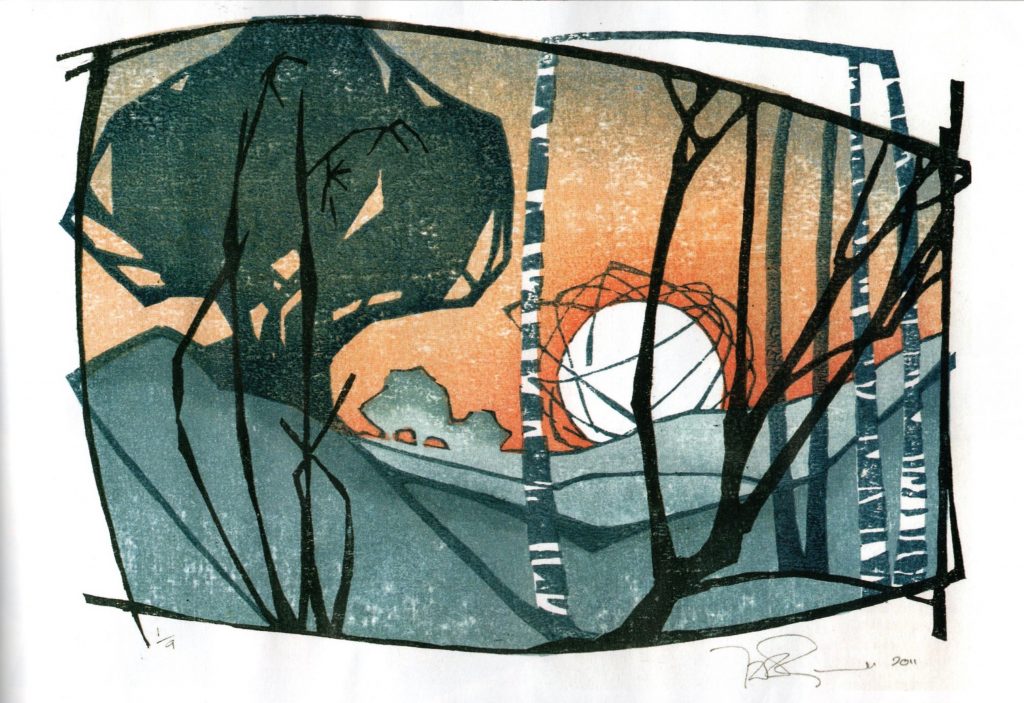 This was an enjoyable exercise as I was able to use three rather more advanced relief techniques: blending inks, using multiple blocks and adding a reduction to one of the blocks. The end result does not compare with Laura Boswell's original especially as there appears to be an element of 'Bokashi' in, for example, the distant trees (same colour only with a darker tone in part).
I learnt an important lesson with regards to inks that were rather stiff to roll out effectively. I had used extender – this certainly made the ink more workable but it also made the ink more transparent. I should have used linseed reducing jelly; making it easier to work the ink before rolling without changing the ink's transparency.
Note 1: Japanese woodblock printing is known as "mokuhanga". In Japanese the word "moku" means 'wood' & "hanga" means 'printmaking'.
Note 2: I used water-based inks for the proofing stage and did not try to replicate the final colours and blend.