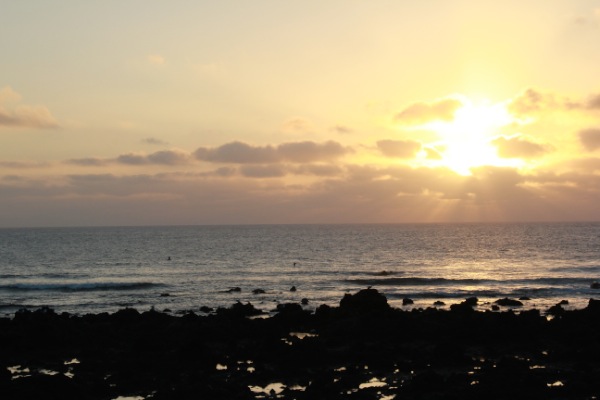 From time to time something goes wrong in either the plate preparation, etching process or printing. Occasionally, the end result comes as a pleasant surprise, or, what is known as a Happy Accident. This happy accident happened twice on the same project… Sitting down for dinner one warm September evening at El Golfo on the west coast of Lanzarote, the setting sun made for a potential etching. I took a photo (image 1) as my reference.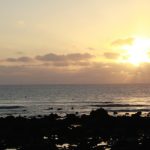 [spacer height="1px"]Image 1
Back in the studio, I prepared my plate with aquatint and pulled a print (image 2)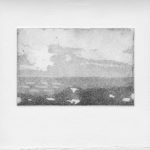 [spacer height="1px"]Image 2
Not exactly inspiring! So I reworked the plate intending to transform the seascape into a landscape with rolling hills in the background and a field barn in the foreground (image 3).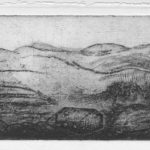 [spacer height="1px"]Image 3
Perhaps this might be described as a 'Happy Accident' in the sense that I had produced an entirely different image. Nevertheless, I was not happy with the result. At the time, wind turbines were springing up locally and the council's planning department was being inundated with protests. To add a degree of interest to the plate, I decided to add some wind turbines of my own and a ploughed-land effect just to right of the barn. I stopped-out the plate and placed it into the acid bath for 30 minutes. Something cropped-up and I forgot about the plate for two days by which time the plate had been bitten right through! See image 4.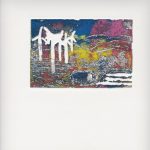 [spacer height="1px"]Image 4
I cleaned the plate and made one final attempt to get a half-decent print using two colours (image 5). Somewhat different to the original intention of etching a sunset. In fact, the copper plate itself looked more interesting than any of the prints that I managed to pull. At least I learned one lesson – if you are going to bite a plate, try to remember to remove it at the appropriate time.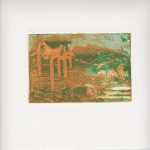 [spacer height="1px"]Image 5